Der Heilige Patrick-Schutzpatron Irlands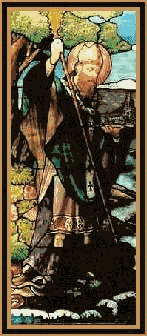 Aus irischen Überlieferungen :
Etwa um das Jahr 400 n.Chr. wurde Patrick in England, einigen Überlieferungen nach in Wales, geboren. Als Junge wurde sein Heimatdorf von den Männern des irischen Clanführers Niall of the Nine Hostages überfallen und Patrick über die Irische See nach Irland verschleppt. Dort wurde er als Sklave in den Nordosten verkauft, um Schweine und Schafe zu hüten. Sein Leben war hart und einsam und Patrick begann, sich zu Gott hinzuwenden. Einige Jahre später veranlasste ihn ein Traum zur Flucht von Irland. Zurück in seiner Heimat ließ er sich zum Priester und Missionar ausbilden.

Schließlich hatte er wieder einen Traum, in dem ihn die Kelten Irlands um seine Rückkehr baten. Papst Celestin erfüllte Patricks Wunsch und sandte ihn als Bischof nach Irland, um das Volk der Iren zum Christentum zu bekehren, ein gewaltiges Unternehmen. Auf seiner Reise durch Irland predigte und taufte Patrick, er ernannte Priester und Bischöfe und ließ Kirchen und Schulen errichten. Immer wieder geriet er dabei in Gefahr.

Einer Legende zufolge entzündete Patrick auf dem Hügel von Slane das Osterfeuer. Dies war jedoch verboten, solange nicht das Feuer des Irischen Hochkönigs in Tara brannte. Ein Soldatentrupp wurde beauftragt, Patrick und dessen Anhänger wegen dieser Mißachtung zu töten. Das Wunder geschah: Die Christen verwandelten sich in eine Herde Rotwild und entkamen so den Soldaten, denen es unterdessen nicht gelang, Patricks Osterfeuer zu löschen. Patrick lief nicht davon, sondern ging zum Königshof und siegte in einem Wettstreit der Wundertätigkeit über die königlichen Druiden. Der König gestand dem Heiligen daraufhin das Recht zu, unbehelligt und frei in Irland zu predigen.

Die berühmteste Legende, die sich um Patrick rankt, ist die von der Vertreibung der Schlangen: Patrick lief eine Trommel schlagend über die Insel und trieb so alle Schlangen und sonstiges giftige Getier ins Meer. Seit dieser Zeit bedeutet es den sofortigen Tod für Schlangen oder Ähnliches, wenn sie irischen Boden berühren.

Bei seiner Missionierungstätigkeit bemerkte Patrick, dass seine Zuhörer große Schwierigkeiten hatten, die Heilige Dreifaltigkeit zu verstehen. Er bediente sich daher eines Kleeblatts, dessen drei Blätter ein ganzes Kleeblatt bilden. Man verstand dies sofort und seither ist das dreiblättrige Kleeblatt, der "Shamrock", das Symbol Irlands. Die Iren tragen an St. Patrick's Day bis heute Kleeblätter am Revers oder am Hut. Der Legende nach bekehrten Patrick und seine Anhänger fast die gesamte Insel. Auf dem heute als Croagh Patrick bekannten Berg versprach Gott dem Heiligen, dass die Iren bis ans Ende aller Tage am Christentum festhalten würden.

Sein Tod am 17. März 465 wurde stark betrauert, jedoch hatte Patrick darum gebeten, diesen Tag als seinen Eintritt ins ewige Leben zu feiern. Sein letzter Wunsch sei daher gewesen, dass jeder seiner Anhänger sich einiger Tropfen irgendeines Getränks bedienen sollte, welches ihren Schmerz lindern konnte. Manche leiten aus dieser Aufforderung die irische Vorliebe für den Whiskey ab.... Die sterblichen Überreste Patricks wurden in Downpatrick bestattet. Sie liegen unter einer schlichten Granitplatte, deren einzige Inschriften ein Kreuz und der Name "PATRIC" sind. Einer Legende zufolge ging die Sonne nach Patricks Tod 12 Tage und Nächte nicht unter, da sie nicht einen neuen Tag ohne den Heiligen verbringen wollte.
Heute wird alljährlich am 17. März, dem Todestag des Heiligen, der St. Patrick's Day mit vielen Gottesdiensten, Gebeten, Gesang und Tanz - und natürlich reichlich Getränken - begangen. Der St. Patrick's Day wird jedoch nicht nur in Irland, sondern auch überall dort, wo Iren und Menschen irischer Abstammung leben, gefeiert.