Der Rock of Cashel
Nahe der Stadt Cashel (der Name bedeutet Burg oder Festung) befindet sich eine der wichtigsten historischen Sehenswürdigkeiten Irlands, der Felsen von Cashel - der Rock of Cashel.
Der Felsen thront auf einer 200 Fuß über Cashel aufragenden Anhöhe aus Kalkgestein. Hier hatten einst die Könige von Munster ihren Sitz. Im Jahre 450 wurde der Felsen vom Heiligen Patrick besucht und im 10. Jahrhundert fand hier die Krönung des Hochkönigs Brian Boru statt. Im frühen 12. Jahrhundert wurde der Felsen vom König des O'Brien Clans an den Erzbischof abgetreten. In dieser Zeit wurde die Cormac's Chapel erbaut. Im Jahre 1647 wurde der Felsen von Cromwells Truppen unter der Führung von Lord Inchiquin geplündert.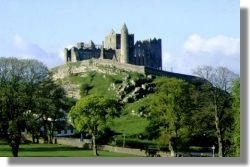 Heute schließen die imposanten Mauern unter anderem einen Rundturm, die Kathedrale, die romanische Kapelle aus dem 12. Jahrhundert und Hochkreuze ein. Die gotische Kathedrale stammt aus dem 13. Jahrhundert und verfügt sowohl über einen quadratischen Zentralturm als auch über Wohnquartiere. Über die Turmtreppe kann man einen um das Dach führenden Aussichtssteg erreichen. Die kleinere Cormac's Chapel ist ein Muster des romanischen Architekturstils. Am Eingang zu dem Gebäudeensemble auf dem Felsen befindet sich die Hall of the Vicar's Choral, ein Bauwerk aus dem 15. Jahrhundert, welches erst kürzlich restauriert wurde. Hier befindet sich auch das Museum, das Silbergegenstände und so interessante Ausstellungsstücke wie das Kreuz des Heiligen Patrick präsentiert. Von hier aus werden auch geführte Touren angeboten.
Adresse
Cashel (+353)-062-61437
Öffnungszeiten: Mitte September - Mitte März Täglich 09:00 - 16:30
Mitte März - Mitte Juni Täglich 09:00 - 17:30
Mitte Juni - Mitte September Täglich 09:00 - 19:30
Unterkünfte im Südosten:
Burgen_und_Schlösser • Herrenhäuser • Exklusive_Hotels • Hotels • Besonderes • Cottages