Die Beara Halbinsel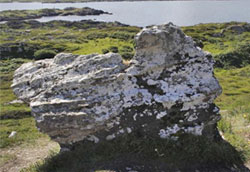 Die Beara Halbinsel ist eine Halbinsel, die zwischen den Counties Cork und Kerry liegt, die im Süden an die Bucht von Bantry und im Norden an die Bucht von Kenmare grenzt. Sie beherbergt Berge, alte Wälder, Sandstrände und vieles mehr. Es ist eine Oase für Naturliebhaber. Wir finden, dass diese Halbinsel weniger von Touristen besiedelt ist als die Dingle- und Iveragh-Halbinseln.
Was Sie tun können:

Fahren Sie den Ring of Beara ab. Glengarriff ist ein Ferienort, wo Sie lecker essen können. Besuchen Sie Garnish Island mit dem Boot. In Adrigole finden Sie bei Hungry Hill den größten Wasserfall Irlands. Nehmen Sie die Straße R574, den Healy Pass zwischen den Sugarloaf Mountains und Hungry Hill hinauf, spazieren Sie über zwei Brücken und durch ein Feld bis hin zum Fuß des Wasserfalls, eine gewaltige Kaskade über schräge Felsplatten. Adrigole Arts ist eine schöne Galerie mit einzigartigen Geschenken für jedermann - sehr beeindruckend sind die Skulpturen, die aus dem 5000 Jahre alten Holz der Mooreiche geschnitzt wurden. Besichtigen Sie die Meereshöhlen am Cuas-Pier. Schauen Sie sich die Hexe von Beara an. Besuchen Sie Castletownbere. Fahren Sie mit dem Boot zur Insel Bere und schauen Sie sich bei einem 45-minütigen Spaziergang vom Anlegeplatz aus den Martello-Turm und den Ardnakinna Leuchtturm an. Fahren Sie von der Spitze der Insel mit der Seilbahn nach Dursey Island. Allihies ist die Heimat von Künstlern und eines Sandstrandes mit Dünen. Die Familie Puxley betrieb hier die Kupferminen bis zum Jahre 1921 - sehen Sie sich hier die Ruinen ihres Schlosses aus dem 19. Jahrhundert an, eine Mischung der architektonischen Stile von französischen Chateaux bis hin zu italienischen Villen. Ardgroom liegt an zwei Seen: Glenbeg und Derryvegal. In Ballycrovane Harbour steht auch der größte Ogham-Stein Europas: 4,7m groß! Fahren Sie durch Lauragh und die Clonee Loughs nach Kenmare hinein.
Machen Sie die Ring of Beara- Wanderung: eine Langstreckenwanderung, die entlang von Straßen, Sümpfen und Wege zu den Ogham-Steine, Keilgräber, sowie zu historischen Stätten der Halbinsel führen.
Der Beara Way-Fahrradweg ist ein nationaler Radweg über Lanstraßen. Die ganze Strecke ist 138km lang. Sie können die Radtour in jedem Ort der Halbinsel beginnen; SIe müssen nur den Schildern mit dem Fahrradsymbol folgen.

Anfang August finden das Garnish Family Festival und das Castletownbere Festival of the Sea statt. Mitte August können Sie das Bere Island Festival und den Allihies Sports Day besuchen.
Unterkünfte in der Region Cork/Kerry:
Burgen_und_Schlösser • Herrenhäuser • Exklusive_Hotels • Hotels • Besonderes • Cottages